Farm Campsite Brabant - Costa Kabrita
Sleeping in a wine barrel
---
Bueno Vida (Good Life)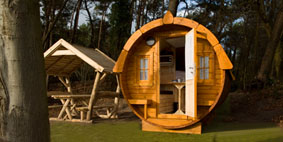 On Costa Kabrita two new wine barrels have been installed, the names of the barrels are Bueno Vida (good life) and Vida Feliz (happy life).
The wine barrels are made of Pinewood and the length is 430 cm and the diameter is 228 cm. The thickness of the wood is 46 mm, so also very suitable for the winter months.
The wine barrels have a whole experience of their own, and have a simple but comfortable interior.
In the back of the wine barrel is a large double bed, under which you have a large storage space.
At the front there are 2 benches and a large extendable table. The 2 couches can each be converted into 2 beds. So in total, 4 people can sleep per wine barrel.
Cosy, cozy, simple and yet comfortable, come and experience it!
And also nice that Omroep Brabant wakes up in our new wine barrel, see, watch the movie below.


[VIDEO] Goedemorgen! Wakker worden in een wijnvat in Huijbergen. #ob @omroepbrabant pic.twitter.com/zS6lQtAhmA

— Floyd Aanen (@FaanenFM) 16 januari 2017
Vida Feliz (Happy Life)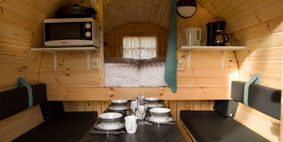 - 1 double bed
- 2 single beds
- Bed linen available
- Wifi, television
- Double glazing
- Infrared heating
- Shared kitchen, with fridge, cooker and oven
- Microwave oven and multipan
- Plates, cutlery, etc.
- Toilet facilities nearby (incl. dishwasher)
- Beautiful walking and cycling routes available
- Arrival after 15.00 hrs and departure before 11.00 hrs
- Charging point for electric cars available
- Dog is welcome, provided you leave the cottage dog/hair free. You can walk from the campsite into the forest to let your dog out.
Click here for pictures
Click here for pictures toilet building and dishwashing service
Click here for pictures of playgrounds