Camping Brabant - Costa Kabrita
Nature campsite Brabant
---
Fien and Teun
SVR promotes agricultural outdoor life together with Fien and Teun
Knowing where your food comes from'. With this motto, Van Hoorne Entertainment of Molenwaard Adventure Farm and the Free Recreation Foundation of Meerkerk are going to work together to get more families to enjoy the agricultural outdoor life.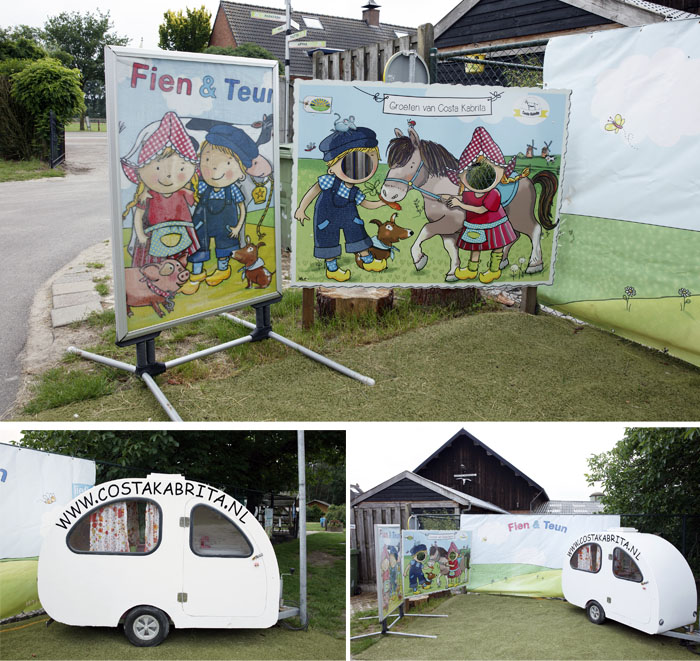 The characters Fien & Teun are taking a step towards the small-scale campsites that are affiliated with SVR. In this way, they will enable more families to enjoy a holiday in nature together.
From 2021 nine Dutch child-friendly SVR campsites (including Costa Kabrita) will give Fien & Teun a visible role on their grounds.
On these campsites children get to know animals, nature and food. At Costa Kabrita there is a treasure hunt for the children and they get a nice discovery booklet from Fien and Teun. If you complete the treasure hunt well, you can get a farm diploma.
There will also be a fun educational (read-aloud) booklet: Fien & Teun Camping on the Farm. The booklet focuses on spending the night in a rural environment.
At Costa Kabrita there will be a photo point, namely a mini-caravan with a Fien and Teun sign next to it. Make the nicest picture with of course a nice text and place it on Facebook and / or Instagram with #costakabrita or @costakabrita.
Follow Costa Kabrita on www.facebook.com/costakabrita or www.instagram.com/costakabrita
Fien and Teun articles
Fien & Teun Craft Package
Activity book, 2 handout books, colours, pens in pencil case

Fien & Teun Cooking Kit
Cookbook, Pancake flour mill, Milk, Eggs

Fien Soft toy
30 cm

€ 10,00

€ 16,50

€ 12,50

Fien Soft toy
30 cm

Fien & Teun Cookboek

Fien & Teun Fleece blanket

€ 12,50

€ 12,00

€ 12,50

Fien & Teun CD
At the Farm

DVD Verzamelbox
 3 Adventures of Fien and Teun

Reading stories
At the Farm

€ 10,00

€ 15,00

€ 10,00

Fien & Teun Book
Camping on the Farm

Fien & Teun Activity Book

Distribution booklets
2 Small hardback books

€ 10,00

€ 5,00

€ 3,00