Camping Brabant - Costa Kabrita
Nature campsite Brabant
---
Fien and Teun
SVR promotes agricultural outdoor life together with Fien and Teun
Knowing where your food comes from'. With this motto, Van Hoorne Entertainment of Molenwaard Adventure Farm https://www.fienenteun.nl/ and the Stichting Vrije Recreatie https://svr.nl of Meerkerk are going to work together to get more families to enjoy the agricultural outdoor life.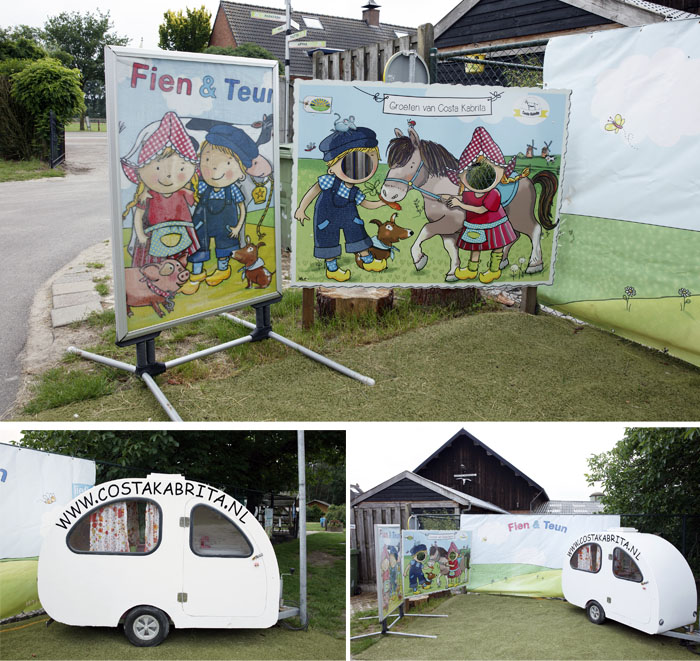 The characters Fien & Teun take a step toward the small-scale campsites affiliated with SVR. 'This way, together they will allow more families to enjoy a vacation in nature'.
Starting in 2021, nine Dutch child-friendly SVR campsites https://svr.nl/fienenteun will give Fien & Teun a visible role on their grounds. At these campsites, children will be introduced to animals, nature and food.
In addition, there is a fun educational (pre-)reading booklet "Fien & Teun Camping on the Farm." The booklet focuses on spending the night in a rural environment.
At Costa Kabrita there is a photo point, namely a mini-caravan with a sign of Fien and Teun next to it. Take the cutest photo here with of course a nice text and post it on Facebook and/or Instagram with #costakabrita or @costakabrita.
Follow Costa Kabrita on www.facebook.com/costakabrita or www.instagram.com/costakabrita
Fien and Teun articles
Fien & Teun Craft Package
Activity book, coloring book, crayons, markers in case

Fien & Teun Cooking Kit
Cookbook, Pancake flour mill, Milk, Eggs

Fien Soft toy
30 cm

€ 13,50

€ 18,50

€ 12,50

Fien Soft toy
30 cm

Fien & Teun Cookboek

Fien & Teun Memory

€ 12,50

€ 14,00

€ 10,00

Fien & Teun Puzzle
4 in 1

Fien & Teun Quartet

Reading Stories
At the Farm

€ 10,00

€ 9,00

€ 14,00

Fien & Teun Book
Camping on the Farm

Fien & Teun Filmbook
Going camping (film book)

Fien & Teun Activity Book

€ 14,00

€ 14,00

€ 6,00

Fien & Teun Coloring book

Fien & Teun
Cup / Plate / Tray 

Fien & Teun - Windo Decals

€ 6,00

€ 15,00

€ 5,00

Fien & Teun Sticker set

Stip Friend's Book

Stip Pony Handbook 

€ 2,50

€ 10,00

€ 10,00

Stip Activity Book

€ 6,00